May 1–Dec 31, 2020
Antone Könst [7]
Love Dove
Concrete, steel, paint, and copper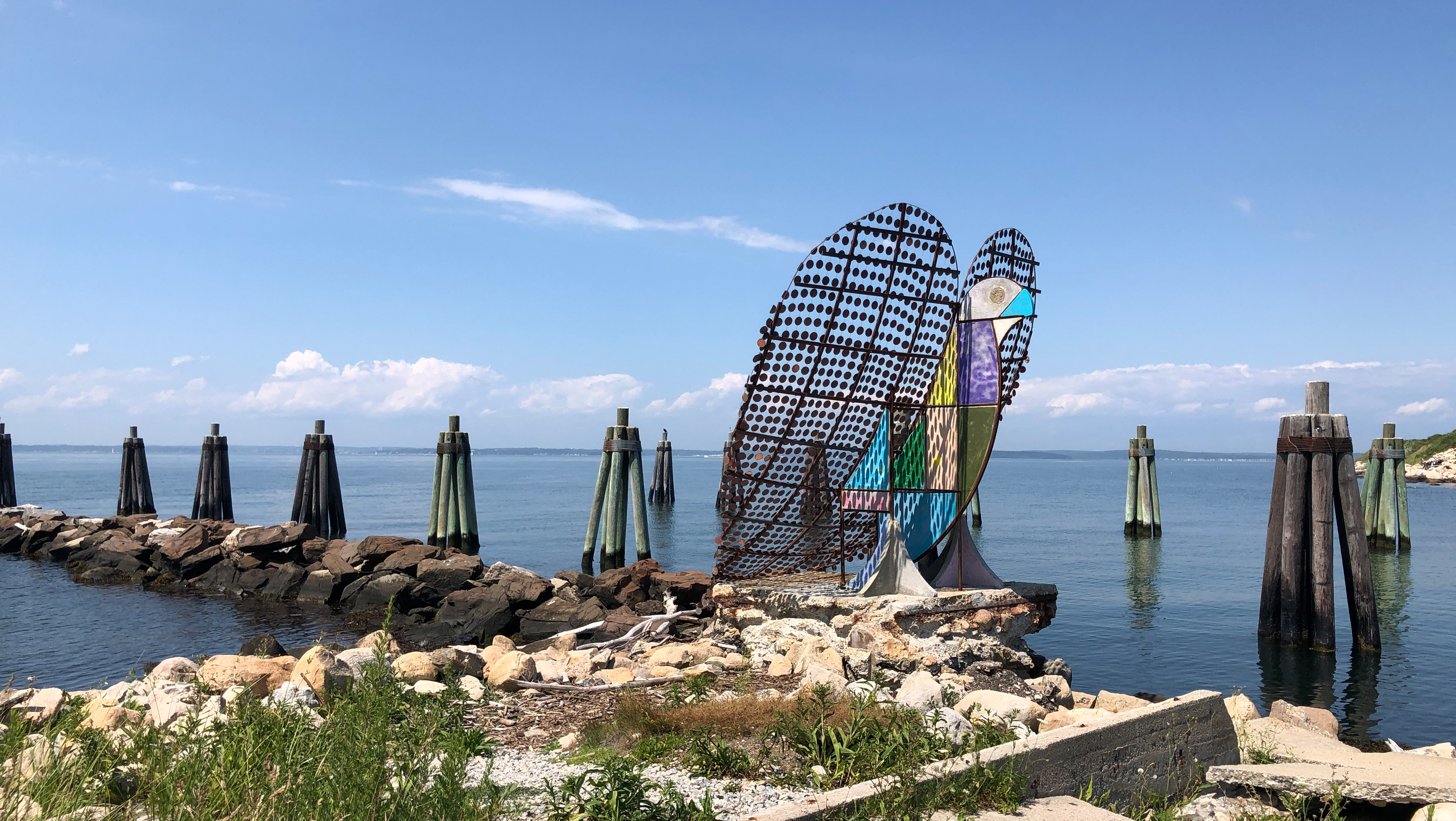 About
Antone Könst's Love Dove transforms hackneyed symbols into an imposing, wholehearted sculpture on the coast of Fishers Island in the Long Island Sound.
Approaching the island by ferry, the sculpture appears as a shimmering copper mirage. A soaring heart-shaped form faces the water, reminiscent of lighted beacons guiding sailors back to port. Upon arrival, visitors can see the other side: a sixteen-foot, brightly colored bird, which appears to have either just alighted on shore or to be ready to take off.
Wrought from concrete, steel, paint, and copper, Love Dove juxtaposes the daily passage of freighters, sailboats, and ferries with the evocative symbolism of the dove, long a messenger of peace and friendship. By underscoring the connection between the feral pigeons of cities such as New York and romanticized ideas of doves—scientifically, the same species of bird—Könst interlaces idyllic clichés of love and the heart with the unfiltered experience of daily life. Experiencing the sculpture, whether from land or sea, encourages reflection on this most essential human emotion and the need for its continued transferal from one person to the next. The dramatic changes of 2020, which coincided with the making of this sculpture, drove that point home for the artist: "I realized Love Dove, initially meant to be raw concrete and steel, needed color, needed urgent and unfussy spray paint, to be defaced by someone who loved it, beautified out of necessity." For Könst, beauty, like love, comes from a commitment to working with the overlooked and the everyday. Change is inevitable; Love Dove reminds us not to forget that which matters most when we take flight.
Artist
Bio
Antone Könst [7] (b. 1987, New Haven, USA) received his BFA from CalArts, his MFA from Yale University School of Art, and lives in Brooklyn, NY. He has exhibited widely across the U.S. and abroad, including solo exhibitions at Tilton Gallery, NY; Marianne Boesky Gallery, NY; Each Modern, Taipei; Artist Curated Projects, Los Angeles; and the Fondation des Etats Unis, in Paris. Könst has won Public Art commissions from Lighthouse Works, NY and Socrates Sculpture Park, NY; and has participated in group exhibitions with Anton Kern, NY; Beers Gallery, London; Mrs Gallery, NY; Galerie Jeanroch Dard, Brussels; and others. He is a recipient of the Rema Hort Mann Grant as well as the Harriet Hale Woolley Fellowship. He will have a show at Tilton Gallery, NY in September, 2023.
Website
https://antonekonst.com/